Why Should I Choose Dr. Hubbard
for my Breast Augmentation?
Women considering breast augmentation in Virginia Beach, Norfolk, and other Hampton Roads Communities choose Dr. Thomas Hubbard for his years of experience and expertise. Dr. Hubbard is not one to be satisfied with just "average" or "acceptable." Never compromising on time or effort, he has continuously strived for the most natural, the most predictable, the most satisfying result possible performed in the safest way.
Dr. Hubbard has presented his advanced breast augmentation techniques both nationally and internationally. He taught a course at the national meeting of the American Society for Aesthetic Plastic Surgery (ASAPS). This honor is not commonly given to a surgeon in private practice without university affiliation. To meet with Dr. Hubbard in Virginia Beach, please request a consultation online or contact our office by calling (757) 600-6227 to discuss your options.
Breast Augmentation
Before & After Photos
Keep in mind that each patient is unique and your results may vary.
Featured Patient Testimonial
"I have been a patient of Dr. Hubbard since 2008. I chose Dr Hubbard after thorough research. It is the most important decision in the process. My first procedure was a breast augmentation. He did an amazing job and the results were incredible. It's been 10 years and I am still pleased. I recently had a facelift along with my eyes done. I am beyond pleased. The results are simply stunning and looks so natural. He is absolutely the best plastic surgeon and I wouldn't go anywhere else. "
Read More
Am I a Candidate
for Breast Augmentation?
You are likely a good candidate for our breast augmentation in Virginia Beach if you are in good overall health and wish to increase the volume of your breasts. Women consider the procedure for many different reasons:
Lost volume after pregnancy and breastfeeding.
Lost volume after losing weight.
Low self-confidence about their breasts.
Feeling their breasts are out of proportion with their bodies
Dr. Hubbard has performed breast augmentation for women of all ages and body types. He has more than 20 years of experience and a long history of successful patient transformations.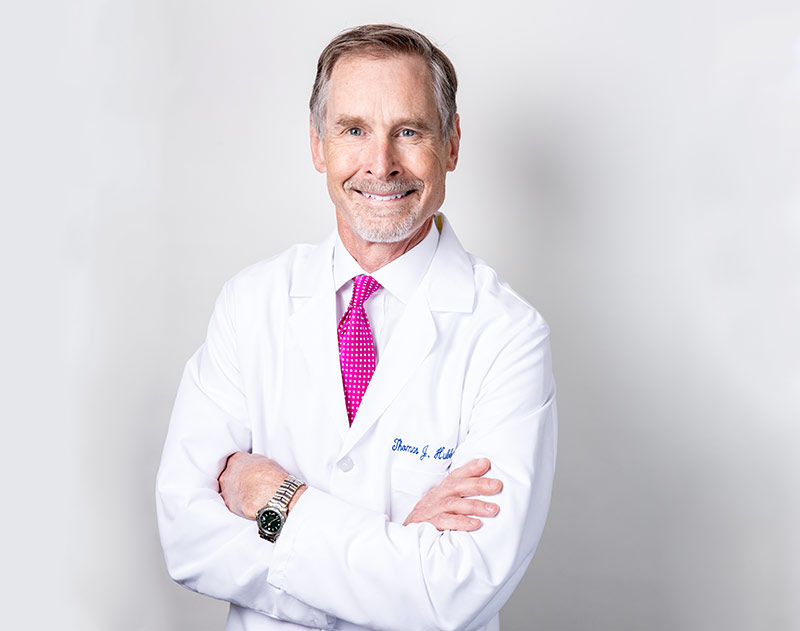 Read about Dr. Hubbard's award winning paper and video on his advanced technique of placing breast implants with a breast lift
Learn More
Dr. Hubbard Request
Your Consultation
How can you benefit from Dr. Hubbard's personalized approach to breast augmentation in Virginia Beach?
Simply put: Breast augmentation is a big decision. You may have contemplated the procedure for months — or even years — before ever deciding to meet with Dr. Hubbard. Moreover, when you do make that leap, it's normal to be nervous when you arrive, uncertain about what lies ahead.
Dr. Hubbard does everything he can to make your procedure a powerfully positive experience. A happy patient is the greatest reward, and he firmly believes in the importance of listening carefully during your consultation, guiding you through the options, and making you feel at ease.
Along the way, our support team is always here to help, from that first call to schedule your consultation all the way to your follow-up visits after the procedure. You can feel free to contact us with questions at any time.
"The difference between ordinary and extraordinary is that little extra. You have what it takes." – S.M.

How do I Choose
the Right Breast

Implants?
At his Virginia Beach plastic surgery practice, Dr. Hubbard offers silicone gel and saline implants in a variety of profiles and sizes. All are safe, FDA-approved medical devices. Each has unique advantages to consider:
Silicone Gel
Gold standard for a natural feel.
Less chance of visible rippling.
Good for women with little natural breast tissue.
Some controversy over long-term detection of rupture.
Slightly more chance of capsular contracture.
Saline
Same appearance as a gel but less natural feel in women with less breast tissue.
Smaller incision options.
Slightly more likely to have visible rippling, although still quite unusual.
With large B and C cups, feel becomes more similar to gel.
Detection of rupture with a look in the mirror.
The decisions about implant size and material are ultimately yours, but Dr. Hubbard will also offer his guidance, driven by experience with women similar to your chest width, breast size, and body proportions. Some women are left confused by conflicting information sources on the web. Dr. Hubbard feels all women deserve the opportunity to get reliable, honest, science-based information to make the critical decision about implant type.
Preview your potential with VECTRA®
Why wait to see your results? VECTRA 3-D imaging shows how you could look after cosmetic surgery. Learn more about this advanced technology.
VECTRA® 3-D imaging gives patients a digital preview of their results, so they can better visualize their implant size choices.
Fat Transfer Breast Augmentation
Woman today have two options for breast augmentation, not only breast implants but transfer of their own fat to the breasts.
There are several advantages to a woman using her own fat. There can't be an allergic reaction. The scars on the breasts are minimal. Some breast implant issues such as rippling or breast thinning over time, especially with large implants, can be avoided with fat transfer. There is the simultaneous benefit of body contouring when this is done. There are cons though with fat grafting to the breasts. These include risks of calcifications from the injections that could interfere with breast cancer screening and even need for a biopsy. Fat injections lead to the possibility of lumps or nodules in the breasts or indentation or irregularities in the area where fat is harvested especially in inexperienced hands.
Breast fat injections have not been able to achieve the same volume and often same shape that many women can accomplish with breast implants because there are limitations to the amount of fat that can be injected.
Therefore, it usually takes more than one surgery if breast implants are not done at the same time. Having more than one surgery for fat grafting along with harvesting the fat with liposuction can lead to significantly more cost than implants alone.
Fat injections to the breasts is gaining popularity as an effective tool for shaping when performed with implants. Even with proper placement of breast implants, some patients may feel there is too much space between the implants. They may want more cleavage or fullness above. Fat injections can be a nice enhancement either at the time of placing the implants or even later.
Dr Hubbard is happy to thoroughly discuss these options with his patients to meet their individual goals and needs. Included in the discussion is the option for a breast lift since neither fat injections nor breast implants can lift the breasts.
What can I Expect from my Breast Augmentation Procedure?
Breast augmentation surgery is most commonly performed with the patient under general anesthesia. A silicone gel or saline implant is inserted beneath the underlying chest muscle through an incision around the lower edge of the areola or, more commonly, through the crease beneath the breast. This procedure is performed on an outpatient basis, meaning that patients can go home the day of their surgery.
What can I Expect During my Recovery?
Of course, your time with Dr. Hubbard doesn't end after the procedure. He continues to work with you during the recovery process to see how you are progressing and answer any questions that may come up as you heal.
Dr. Hubbard takes the "Rapid Recovery" approach to breast augmentation, using recent advancements in surgical techniques to decrease trauma to the tissues. The method is more precise and delicate, leading to a speedier recovery.
You will leave with anti-inflammatory medications to help ease discomfort. Many other modalities are implemented the first few days to improve comfort.

FAQ

Breast Augmentation

In his more than 20 years of practice performing custom breast augmentation procedures, Dr. Hubbard has answered countless questions about the procedure. Here are answers to many of the most common ones.
How much does a Breast Augmentation Procedure cost?
Our Virginia Beach breast augmentation is a very personalized procedure. Because there are so many variables for every patient — implant type, possible addition of breast lift, etc. — it's difficult to offer a cost structure without meeting the patient first.
Instead, we typically discuss the cost breakdown after your 1-on-1 consultation with Dr. Hubbard. At that point, we will have a better idea of the unique aspects of your procedure.
Is it possible to Combine Procedures with Breast Augmentation?
Many women decide to pursue additional procedures concurrent with a breast augmentation, for even more dramatic results. When women are unhappy with the position of their breasts, for example, the best choice is often combining breast augmentation with breast lift.
In what's commonly called a mommy makeover, many women also opt to address the stretched skin and excess fat pockets caused by pregnancy and childbirth by adding liposuction and/or a tummy tuck.
I'm athletic/physically active. Are there any special considerations for me?
Dr. Hubbard is a strong proponent of placing breast implants beneath the pectoral muscle — and that's particularly true in the case of athletic women. For bodybuilders, runners, and other active women, submuscular placement has several advantages:
The new breast shape is more natural.
There is more padding, therefore less likelihood of rippling.
There is less likelihood of capsular contracture (hardening of the breast).
Mammograms are better quality.
Female weightlifters can return to the same rigorous workouts they performed before surgery, once they have had adequate time to recover.
While the shape of the breast can change when contracting the chest muscles, the breast implants remain safely in place. Dr. Hubbard has had many athletic breast augmentation patients.
What kind of Results can I Expect from Breast Augmentation?
The primary goal of breast augmentation is to increase breast volume, and that will be visible immediately after surgery. Breast implants will settle into their final position in the months following your surgery.
Beyond added volume, Dr. Hubbard can undoubtedly customize your procedure to your specific goals. Your input is important. Some issues are always addressed for your ideal outcome and include such things as improving cleavage or addressing asymmetry. You can see examples of Dr. Hubbard's past work with breast augmentation patients in our before-and-after photo gallery.
What can be done to better control implant position?
One of Dr Hubbard's areas of research for years has been control of implant position. Dr Hubbard's revision rate is extremely low. But he always looks for improvement. Most patients don't realize their implants will drop downward for 7 months after surgery as a normal part of the healing process. It happens so slowly many don't realize it. The postoperative care at Hubbard Plastic Surgery involves stopping the settling process when the implant level is where a woman desires it.
What Else Should I know about Breast Augmentation?
Capsular contracture, or the hardening of scar tissue around the implant, is a potential complication of breast augmentation that concerns women considering the procedure. Dr. Hubbard has implemented multiple precautionary measures that help prevent this condition, known collectively as the "no-touch" technique.
Dr. Hubbard only touches the implant with fresh, clean gloves and only after first coating the surface of the implant with antibiotics. This results in increased safety for the patient and a soft, natural result. With these measures, Dr Hubbard has a capsular contracture rate well less than 1%.
Can Dr. Hubbard Correct a Breast Surgery?
Some women who have had breast augmentation elsewhere seek the help of Dr. Hubbard to perform revision breast surgery. One common type of revision surgery called "capsulorraphy" involves repositioning breast implants to create a more natural position. (See this photo gallery case example for a patient who was dissatisfied with her initial result from another surgeon because her implant pockets were placed too low.)
Other common types of breast revision surgeries include lowering the implants, correcting capsular contracture, changing breast implant size or type, and performing a variety of breast lift procedures with or without implants in place. Dr. Hubbard has a teaching course that includes how to do effective breast lifts over new and old implants.
© Hubbard Plastic Surgery & Skin Enhancement. All Rights Reserved. Designed & Developed by Studio III
*The persons shown in photographs on this website are stock photography models and are not actual patients of Hubbard Plastic Surgery & Skin Enhancement. Photos in our online gallery are of actual patients of our practice, unless otherwise noted, who have provided consent to display their pictures online.
Privacy Policy