For plastic surgeons, TouchMD picks up where the in-person consultation leaves off. Dr. Hubbard offers it at his practice in Virginia because it greatly enhances patient education and communication through a simple, convenient — and private — patient portal. Through a touch-screen interface, this gives patients a unique approach to their medical care, with educational videos, anatomical imagery, and comprehensive procedure information, all available whenever and wherever they would like to view it.
TouchMD is just one more way we connect with you. It all begins with a consultation. Request yours online, or give us a call at (757) 600-6227.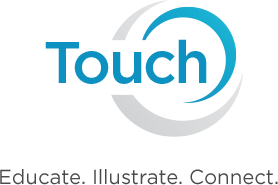 A Richer Patient Experience
With TouchMD, you can go online to explore what to expect with your cosmetic procedure, as well as learn more about Dr. Thomas J. Hubbard. Once you've registered, you will have a profile that serves as your base for delving a bit deeper:
Learning about Dr. Hubbard and the practice
Watching videos about your particular procedure
Viewing or printing images taken during your appointments
Sharing your experience with friends and loved ones
And more...
Getting Started
Signing up with TouchMD is quick and easy:
1. Call our office at (757) 600-6227 or email us at [email protected] to receive a registration code.
2. Use that code to register for your own TouchMD private patient portal here, or click the "myTouchMD" button.

What TouchMD Offers
Information offers peace of mind for our patients. With TouchMD, you can educate yourself about particular treatments or procedures of interest, even when you're not with us at the practice:
Tour

— By taking a virtual tour of our office, you can read about Dr. Hubbard's educational background and credentials, as well as learn what sets our plastic surgery practice apart from others.

Educational Videos

— These educational videos can help you gain a more comprehensive understanding of what to expect, both before and after your procedure.

Personal Web Portal

— Videos, images, and information covered throughout the consultation are available from the privacy of your home via TouchMD's secure personal patient web portal.

Anatomical Images

— Anatomical images and personal photographs can be edited and enhanced to help illustrate the results surgery can achieve for you.
Ultimately, TouchMD makes the time you do spend in our office more efficient and effective than ever before. To schedule a consultation with Dr. Hubbard, please do not hesitate to contact our office today.
© Hubbard Plastic Surgery & Skin Enhancement. All Rights Reserved. Designed & Developed by Studio III
*The persons shown in photographs on this website are stock photography models and are not actual patients of Hubbard Plastic Surgery & Skin Enhancement. Photos in our online gallery are of actual patients of our practice, unless otherwise noted, who have provided consent to display their pictures online.
Privacy Policy