Dr. Thomas Hubbard is a board-certified plastic surgeon in Virginia Beach and the medical director of Hubbard Plastic Surgery and The Aesthetic Center. He is also an active, full-time staff member of Sentara Virginia Beach General Hospital. Dr. Hubbard wants you to feel confident and comfortable with him even before your first visit.
When you're ready to meet Dr. Hubbard in person, request a consultation online or contact our office by calling (757) 600-6227 to discuss your options.
Background & Education
Dr. Hubbard graduated summa cum laude with a Bachelor of Science degree from the University of Notre Dame. There, he was also an elected member of Phi Beta Kappa and received the Baldinger Award for scholastic excellence, given to the top 2 graduating pre-medical students.
He graduated with honors from one of the top-ranked medical schools in the United States, Washington University School of Medicine. He was chosen in Alpha Omega Alpha, the medical honor society that comprises the top 10% of medical students.
Dr. Hubbard later completed two residencies in complementary specialties: plastic surgery and otolaryngology. For otolaryngology, he completed a 5-year surgery program at Washington University in St. Louis, giving him extensive surgical experience with all layers of delicate facial and neck anatomy.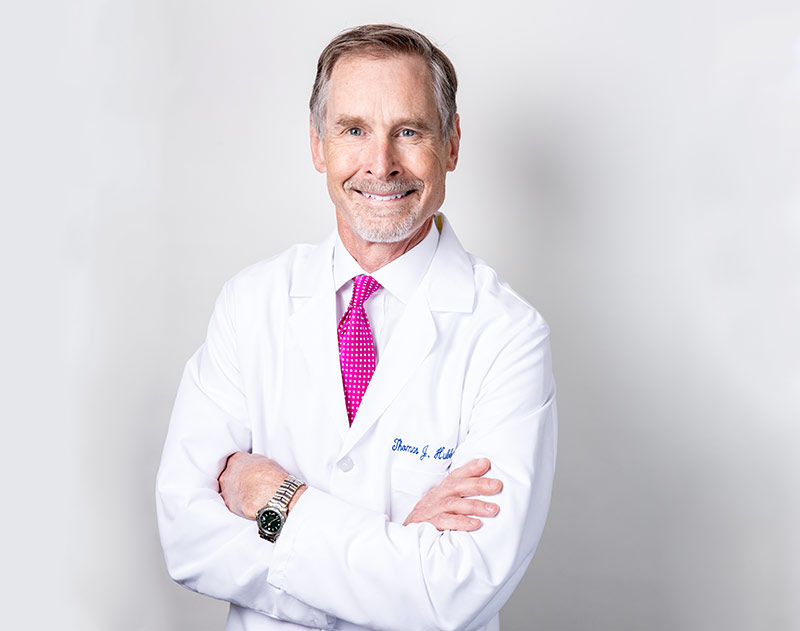 His plastic surgery residency consisted of 3 more years of surgical training at Loyola University Medical Center in Chicago. This culminated with a year of chief residency at Loyola University and Cook County Hospital. His double board certification demonstrates a love and commitment to surgery, and a high level of proficiency and comfort with the procedures he performs.
Virginia Beach Plastic Surgeon, Dr. Thomas Hubbard, then further pursued his interest in cosmetic surgery with a year of cosmetic plastic surgery fellowships at Eastern Virginia Medical School and Wexham Park Hospital, just outside London, England.
In His Own Words

Q:
What have you, as a surgeon,
contributed to the field of cosmetic

surgery?
A:
Any surgeon with a passion to improve results will always look to innovate. I have developed a breast augmentation with full lift technique that truly advances both results and safety over older techniques.
Q:
If you were not a plastic surgeon, what
career would you choose?
A:
Having worked on our family farm from age 10 until medical school, I found that I truly loved animals, especially large ones, as well as working outside. I trained and showed horses and had the opportunity to exercise thoroughbred race horses. Had I followed this passion, I would have been the fifth generation to work at central Illinois farming.
Q:
What one attribute do you think
makes you a better surgeon?
A:
It would be my awareness that there is no coasting, no relaxing, and no "just getting by" in cosmetic surgery. My practice is all about attention to detail. Every patient deserves and receives my best effort and I am surrounded by a staff that shares this same commitment.
Q:
If we asked your staff, "What makes
Hubbard Plastic Surgery so special?"

what do you think they would say?
A:
From the outside, you see a beautiful building and an attractive website — but those who work here see so much more from the real practice. It is filled with integrity, honesty, and a remarkable work ethic. We work to constantly improve and maximize patient safety and satisfaction.

"I can't thank you enough for taking your time and giving your talent. It is very kind of you, and I know that I'm very fortunate."
J.G., Virginia Beach, Virginia
A Lifelong Learner
Dr. Hubbard has board certifications in both plastic surgery and otolaryngology. He is a member of the American Society of Plastic Surgeons, The American Society for Aesthetic Plastic Surgery, the Rhinoplasty Society, and the American College of Surgeons. He has authored numerous textbook chapters and plastic surgery journal articles during his career and he has been honored to lecture at international, national and regional meetings. He has presented to the American Society of Aesthetic Plastic Surgery, the American Society of Plastic Surgeons, the Southeastern Society of Plastic Surgeons, and the Rhinoplasty Society. He has performed and taught cosmetic surgery in England, Russia, and South America.
Dr. Hubbard has earned a reputation in the Tidewater community as the plastic surgeon that other doctors trust for their families. Hubbard Plastic Surgery was founded in 1999 with a focus on meeting the needs of each patient individually and exceeding their expectations. This starts with good communication and realistic goals and leads to a lifelong relationship.
Dr. Hubbard's patients appreciate his concern for their wellbeing. He strives to give each patient the best possible result in an environment dedicated to safety. They recognize not only Dr. Hubbard's eminent qualifications and skills as a Virginia Beach plastic surgeon, but also his gentle demeanor and artistic approach.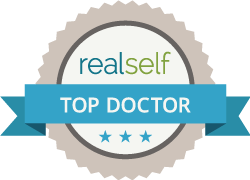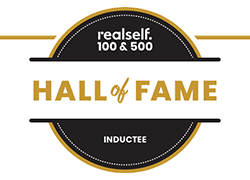 Thinking Big, Starting at Home
Dr. Hubbard went on to further pursue his interest in cosmetic surgery with a year of cosmetic plastic surgery fellowships at renowned national and international institutions, including Eastern Virginia Medical School and Wexham Park Hospital, outside London, England.
Dr. Hubbard is noted for his volunteer work in the developing world. This began with two months in an East Africa medical clinic in 1983. He's participated in volunteer reconstructive surgery trips to South America, Central America, the Philippines, Central Asia, and the Caribbean, traveling with Christian Medical Society, Operation Blessing, and Operation Smile.
In 1994, he founded Medical Supply Rescue and Recycle (MSSR), a nonprofit organization that collects excess surgical supplies and used equipment from area hospitals to send to Africa, Central America, and South America. In 1998, the U.S. Ambassador recognized him for donating supplies to Sierra Leone. In 2002, with funding directly from Hubbard Plastic Surgery, MSRR began purchasing new surgical instruments to send to surgeons in developing countries.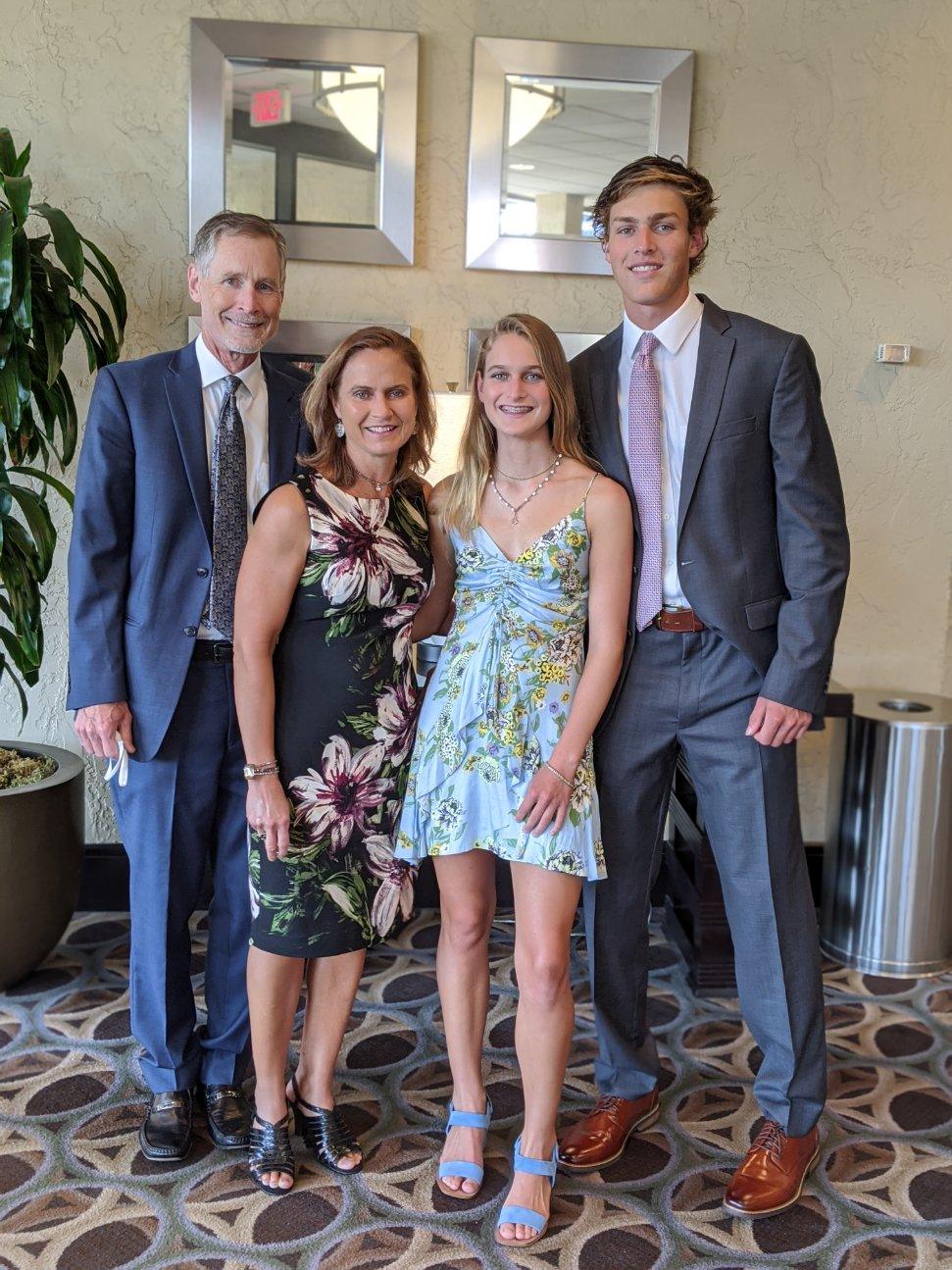 Making a Difference
The need for medical care goes well beyond our borders — and Virginia Beach plastic surgeon, Dr. Thomas Hubbard continuously works to provide developing nations with much needed surgical instruments and medical supplies.
In His Own Words

Q:
How do you think your outlook on life
was influenced by growing up with 8

brothers and sisters?
A:
Growing up in a family with 9 kids gives you a whole new understanding of the word "chaos." Luckily, in my family, chaos was tempered by love. You certainly learn to share, compromise, and come to the table when you are called. Our parents taught us to work hard, love each other, and trust God.
As to having 5 sisters, perhaps the experience has given me... well, I'm still trying to figure it out, but I'm sure it was valuable in some way.
Q:
What was your most memorable
experience working overseas?
A:
It was definitely working in a medical clinic in East Africa for 2 months during my last year of medical school. There in my early 20s, I experienced that initial shock of finding out how much of the world really lives. It had a lasting impression on my view of life and how incredibly lucky we are as Americans. I also realized how even a small effort can make such a huge difference in individual lives.
Q:
You have obviously accomplished a lot
both professionally and personally.

What are you most proud of?
A:
My family is most important to me, and they are the center of my life. For the past 20 years I have been married to my best friend and soul mate and I am lucky to work with her every day. We feel so fortunate to have a wonderful son and daughter that constantly surprise and impress us. They remind me what is most important.
© Hubbard Plastic Surgery & Skin Enhancement. All Rights Reserved. Designed & Developed by Studio III
*The persons shown in photographs on this website are stock photography models and are not actual patients of Hubbard Plastic Surgery & Skin Enhancement. Photos in our online gallery are of actual patients of our practice, unless otherwise noted, who have provided consent to display their pictures online.
Privacy Policy