Why Choose Dr. Hubbard for your Rhinoplasty?
Virginia Beach plastic surgeon Dr. Thomas Hubbard's expertise in rhinoplasty is recognized nationally by colleagues and is the reason so many patients choose him to perform this most demanding of all plastic surgery procedures. Dr. Hubbard has presented on advanced rhinoplasty techniques at national and international meetings. He has performed this procedure in 6 countries.
To meet with Dr. Hubbard personally and learn about his advanced Virginia Beach rhinoplasty technique, request a consultation using our online form or call our office at (757) 600-6227 to schedule an appointment.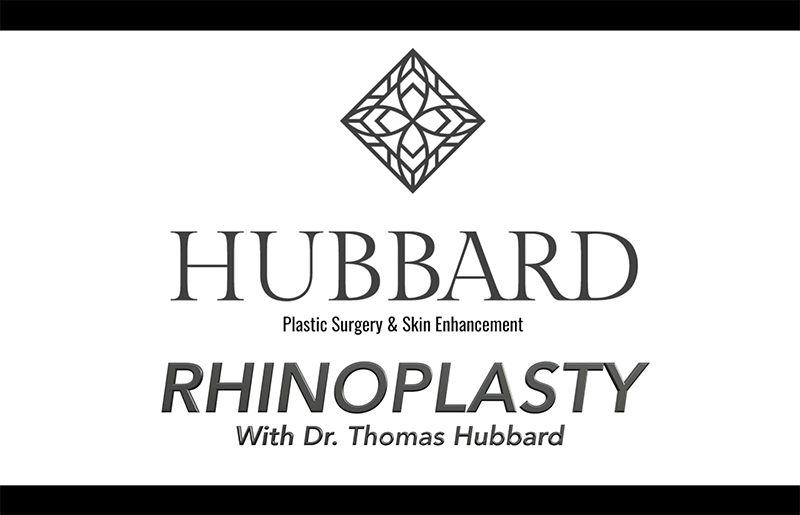 Dr. Hubbard Talks About Rhinoplasty
Rhinoplasty
Before & After Photos
Keep in mind that each patient is unique and your results may vary.
Featured Patient Testimonial
"It has been a full year since my open rhinoplasty with Dr. Hubbard and I could not be more pleased with every aspect of my experience. I had previously gone to Dr. Hubbard's for various non-surgical procedures, then had a Breast Augmentation almost two years ago. After my experience with the BA, I knew instantly that I wanted Dr. Hubbard to perform my rhinoplasty, especially knowing that it is a great area of interest for him. I have wanted this procedure done for so many years and I felt so at ease with my choice of surgeon.

My consultation and preop appointments went so well, it made me even more excited for the big day. Dr. Hubbard's number one priority is safety and methods proven by research, I could tell because of how much he educated me on all different parts of my upcoming surgery and really wanted to know about any concerns. I felt that I had very clear expectations of my outcome from both my consult and preop when the big day came I felt fully prepared and not nervous at all. The whole staff is so kind and accommodating, from getting put under to waking up, it was all a pleasant experience and I actually felt so great when I awoke.

My caretaker (big sis) had very clear instructions on what to do once I got home, and she did a great job. I took two weeks off of work and honestly my recovery was so smooth and pretty painless, I didn't even take any of my pain meds. I had such an amazing experience that I have another operation booked with Dr. Hubbard in three months. All in all, I respect and adore Dr. Hubbard for his skill, intelligence, and his caring heart for all of his patients. I never feel rushed when I'm in his office, my husband actually jokes that it is my favorite place in the world.

My one-year post-op results are so amazing, I am so pleased with my decision to have Dr. Hubbard perform my rhinoplasty. My look is so natural and fits my features so well that people who I haven't told, honestly don't know I had anything done. My own father and husband compliment me all the time on how nice it is. The year has flown by but I know I will be happy with it for life!"
Read More
What Is
Rhinoplasty?
Rhinoplasty, also known as a nose job, sculpts and reshapes the nose using surgical techniques that maintain and even improve your breathing. It may be surprising to learn that the nose is the most complex structure addressed in plastic surgery, and Dr. Hubbard has dedicated decades to master the art and science of the many methods in rhinoplasty surgery. For over 30 years, he has attended, presented, and taught at rhinoplasty meetings. Additionally, successful rhinoplasty must consider the unique desires, aesthetic goals, and needs of each patient. Dr. Hubbard's technical precision during his Virginia Beach rhinoplasty is critical, as the nasal structures he manipulates are among the most delicate tissues of the face.

I first saw Dr. Hubbard on television and he seemed so honest and down to earth. I am so happy with my surgeries (rhinoplasty, facelift, abdominoplasty) that I tell everyone I know to go see Dr. Hubbard.
B.D., Virginia Beach, Virginia
About her old nose, Patrice says, "I saw a beak." She was self-conscious about her nose, to the point that she avoided having her photo taken. Now, she says, "If I'm looking in the mirror, it's just to admire the results — not focus on what I didn't like before."
Am I a Candidate for Rhinoplasty?
Rhinoplasty, also known as a nose job, can be helpful if you would like to change the shape or size of your nose. Some of the most common cosmetic concerns that Dr. Hubbard treats are:
Crooked nose
Overly large or long nose
Large hump
Wide nose
Round or bulbous tip
Dr. Hubbard also offers a nonsurgical rhinoplasty option. Achieved with dermal fillers, this approach can treat a number of common aesthetic concerns without an incision or the associated downtime.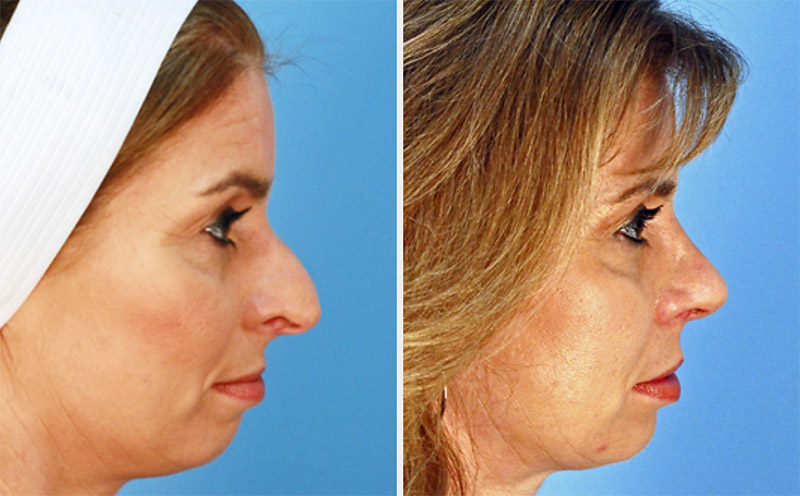 This woman from Newport News, Virginia, wanted to change the shape of her nose for most of her life. She came to Dr. Hubbard, who carefully analyzed the nose's structure and listened to her concerns. Using computer video imaging, together they developed a surgical plan that enabled Dr. Hubbard to deliver the beautiful result she desired. This type of effect requires grafting and precise measurements throughout surgery. To see before-and-after photos of other patients and the consistent results Dr. Hubbard achieves, view our photo gallery.
What can I Expect During my Consultation?
Great rhinoplasty results begin with a thorough discussion about the exact changes you want with surgery and an examination of the internal and external anatomy of your nose. Based on that, Dr. Hubbard then discusses what can be reasonably and realistically accomplished. Computer video imaging assists in the communication and decision-making process. After your consultation, we will also save the images in your TouchMD profile, allowing you to review them at your convenience from your computer or mobile device.
This data is then used to make a unique plan for each patient's needs to develop which surgical maneuvers, out of hundreds, he will use.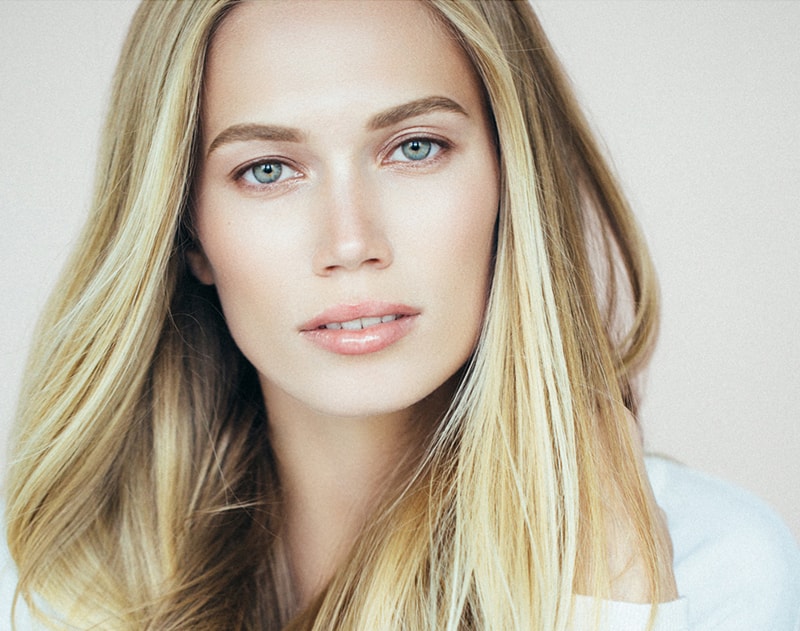 What the Expert Says
The art of rhinoplasty is one of my passions. I love the unique challenge of using advanced techniques to create balance and proportion for my patients' faces, as well as enhance their breathing. Rhinoplasty is indeed the combination of form and function.
Dr. Thomas Hubbard
What can I Expect During my Procedure?
Dr. Hubbard performs his Virginia Beach rhinoplasty surgery as an outpatient procedure with general anesthesia. Depending on your specific surgical plan, he makes incisions inside the nose, except one that may cross the skin between the nostrils. If nostril narrowing is elected, Dr. Hubbard may make another incision at the edge of the nostril.
The specifics of this procedure vary greatly depending on the patient's needs.
Commonly, work is done on the septum (septoplasty). Breathing can also be improved by performing surgery on the turbinates (swellings on the sidewalls of the airway) or internal or external valves.
Patients are traveling from other states, as they realize the high level of experience and expertise that rhinoplasty demands. These procedures are highly individualized and require a thorough and detailed discussion. Our staff has years of experience accommodating patients who travel to Virginia Beach for their surgery. Please visit our Travel Support page for more information.
Learn More

What can I Expect from
Healing after Surgery?
If Dr. Hubbard places packing inside the nostrils, it is small and light and removed the day after surgery.
An external splint is in place for 1 week.
Initial discomfort is easily controlled with oral medication.
Most sutures of the nose dissolve.
Most patients return to work in about a week, although some bruising and swelling may persist.
Almost all bruising subsides within 2 to 4 weeks.
Twenty percent of swelling usually persists for 4 to 6 months, with a smaller percentage taking up to a year or year and a half to resolve.
What is a Revision Rhinoplasty Procedure?
Revision rhinoplasty, or a revision nose job, refers to redoing cosmetic and/or functional nose surgery after previous unfavorable results performed elsewhere. This is a category of nose surgery that is best handled by surgeons with specialized expertise and considerable experience in rhinoplasty. Surgeons in other cities and states frequently refer patients to Dr. Hubbard for such nose problems because of his advanced qualifications.
Revision rhinoplasty begins with freeing up the old scar tissue and then repositioning the underlying structures of the nose -- both cartilage and bone. This procedure is almost always accompanied by adding grafts usually of cartilage from the nose or, if necessary, from the ear or rib. Fortunately, cartilage can be removed from either site with no change in appearance. Grafts strengthen weak areas, straighten crooked regions, and fill in sites that are too low. They even significantly improve breathing in many cases. Grafts are the ultimate sculpting surgical procedure in all of medicine.
Can Rhinoplasty Improve Nasal Function?
Often, rhinoplasty produces an improvement in nasal function. Dr. Hubbard frequently carries out special maneuvers during surgery to maintain normal breathing or improve breathing considerably. Some rhinoplasty maneuvers can double or even triple airflow. It is also essential when a hump is removed from the bridge to consider adding small pieces of cartilage to maintain proper breathing and also make for better long-term appearance. Nasal valve or turbinate surgery is easily performed at the same time as rhinoplasty and can permanently cure chronic nasal congestion in many individuals. Dr. Hubbard always discusses breathing with his patients.
What is Nasal Tip Drooping?
In recent years we have significantly increased our knowledge of what controls nasal tip position and why it moves over time. The nasal tip often moves when we smile but can also shift as a result of aging. Many say the nose grows with age, but what occurs is the tip drops and increases the length of the nose. The tip drops because supporting structures of it weaken with time. The nose has a powerful muscle called the depressor septi that pulls downward, especially when we smile. Some individuals with a strong depressor septi muscle will avoid a full smile or cover their nose and mouth when smiling.
As outlined in Dr. Hubbard's rhinoplasty textbook chapter on controlling the tip and the long nose, we now have good surgical options to place the tip in the ideal position. Dr. Hubbard outlines some of these techniques in another chapter in the textbook "Dallas Rhinoplasty: Nasal Surgery by the Masters." As Dr. Hubbard suspected, recent published research has confirmed that many individuals who feel their tip drops when smiling, actually have more of an issue with the upper lip compressing and sliding beneath the lower nose. There are rhinoplasty techniques that offer considerable help with this and not alter one's smile.
Dr. Hubbard is a master in the Art and Science of Rhinoplasty.
Dr. Hubbard is an authority on rhinoplasty, and has authored textbook chapters, articles, and presented nationally and internationally on the subject.
Dr. Hubbard's Latest Publications
Dr. Hubbard has developed a surgical technique that leads to significantly better cosmetic results with specific nose problems and deformities. The details and results of his surgical technique were published in Plastic and Reconstructive Surgery, the most prestigious national and international journal of his specialty.
Dr. Hubbard has completed updated chapters for the second edition of Dallas Rhinoplasty: Nasal Surgery by the Masters, one of the most authoritative texts in modern rhinoplasty.
To read answers to our frequently asked rhinoplasty questions, visit our Rhinoplasty FAQ page. During your consultation, you can view pictures of our happy local patients from Virginia Beach, Chesapeake, and Norfolk, VA as well as our rhinoplasty patients who travel from other areas such as North Carolina, Washington DC, West Virginia, Maryland, New York, Florida, Tennessee, and other parts of Virginia.

FAQ

Rhinoplasty

Patients at our Virginia Beach practice typically arrive at their rhinoplasty consultations with many specific questions for Dr. Thomas Hubbard. Through his years of experience, Dr. Hubbard recognizes there are some common questions asked by most of his patients.

As a rhinoplasty specialist recognized nationally for his nose surgery expertise, Dr. Hubbard is the choice of rhinoplasty patients from Norfolk and throughout the Eastern Seaboard. You can request a consultation using our online form or call our office at (757) 600-6227 to schedule an appointment.
When will I See the Results of Rhinoplasty Surgery?
The vast majority of rhinoplasty patients see many of their exciting changes as soon as the splint is removed, 7 days after surgery. Other more subtle refinements begin to appear over the next few weeks. The full results of your Virginia Beach nose job emerge gradually as the residual 20% of swelling resolves. It can take a year to a year and a half to see the more subtle improvements.
Is it Possible to Combine Rhinoplasty with other Cosmetic Procedures?
Dr. Hubbard often combines rhinoplasty with other facial cosmetic procedures such as fat grafting, chin implant or eyelid surgery. Dr. Hubbard can talk to you about a comprehensive approach that addresses each of your goals during your consultation.
Why is Revision Rhinoplasty often more Difficult?
There are several reasons that revision rhinoplasty may be more difficult than your initial rhinoplasty. Previous surgery can leave much scar tissue in multiple areas, changing the character of the structures. There has almost always been excessive weakening or removal of cartilage and bone removed in outdated methods that are unfortunately still used today. Often, cartilage must be replaced to overcome the weakness and possible collapse that may have resulted. Modern methods are more predictable and more natural in appearance. The goal is a more attractive nose that does not reveal any signs of prior surgery.
Are there Scars after Rhinoplasty?
The incisions made during rhinoplasty are either hidden inside the nose or on the thin strip of skin that separates the nostrils (called the columella). It is a tiny incision, and the resulting scar is almost imperceptible.
Can Rhinoplasty Help Improve Breathing through my Nose?
Nose surgery to improve breathing is possible and is often called functional rhinoplasty. Dr. Hubbard uses specialized techniques during rhinoplasty that can improve breathing. Septoplasty and internal and external valve surgery are standard procedures that are often combined with cosmetic maneuvers to improve breathing. Another standard procedure shrinks swollen turbinates that can obstruct the airways.
Do you use Computer Imaging During the Consultation?
Yes, by applying sophisticated computer software to a patient's digital photo, Dr. Hubbard can conclusively demonstrate the potential changes created through your Virginia Beach rhinoplasty surgery. Computer imaging is a precious communication tool Dr. Hubbard uses to help his patients provide feedback as part of the collaboration that's so important to create a customized surgical plan. Not all views can be seen on the computer, and the computer cannot show the exact surgical result. However, the vast majority of patients find this visual imaging not only reassuring but extremely valuable in decision making. Since no two rhinoplasties are the same, a detailed plan before surgery is always necessary.
© Hubbard Plastic Surgery & Skin Enhancement. All Rights Reserved. Designed & Developed by Studio III
*The persons shown in photographs on this website are stock photography models and are not actual patients of Hubbard Plastic Surgery & Skin Enhancement. Photos in our online gallery are of actual patients of our practice, unless otherwise noted, who have provided consent to display their pictures online.
Privacy Policy