Why Choose Dr. Hubbard for your Breast Revision Surgery?
Dr. Hubbard has breast revision surgery referred to him from all parts of Virginia and North Carolina based on his extensive experience of over 20 years in cosmetic breast surgery. He has made presentations nationally and internationally on advanced breast implant and breast lift techniques. Dr. Hubbard has ongoing research studies on state-of-the-art breast implant positioning and advanced breast lift techniques. He has also done research on the causes of implant movement and how to effectively control the position of breast implants.
Is breast revision surgery for me?
Dr. Hubbard commonly sees women from the Mid-Atlantic region that have undergone breast surgery elsewhere. Either soon after or years following their breast augmentation surgery, they are concerned about their breast implant position and how the implants have migrated to the side. Many are surprised to find the reason for their implant malposition. It could be technique, shape of the ribs, sleeping habits or certain types of weightlifting. Fortunately, there are many good solutions that Dr. Hubbard can offer.
What Can I Expect During The Procedure?
Revision surgery often involves implant surgery, increasing or decreasing the implant's size or even removal of implants. Sometimes the implant type is changed. If the implant is increased or decreased in size, usually the pocket where the implant sits needs to be adjusted for the optimal position of the new implant. This can be done with internal sutures at the side of the implant and/or at the bottom.
Revision surgery often involves shaping the breast tissue itself. Many patients find the breast lift they had previously was old methodology, thus leaving the breast wide, poorly projected and bottomed out. Much better techniques are available now with an experienced breast revision surgeon like Dr. Hubbard.
Meet Dr. Hubbard
Learn why men and women in Virginia Beach, Chesapeake, and Norfolk, VA trust the surgical expertise of board-certified plastic surgeon Dr. Thomas Hubbard.
Learn More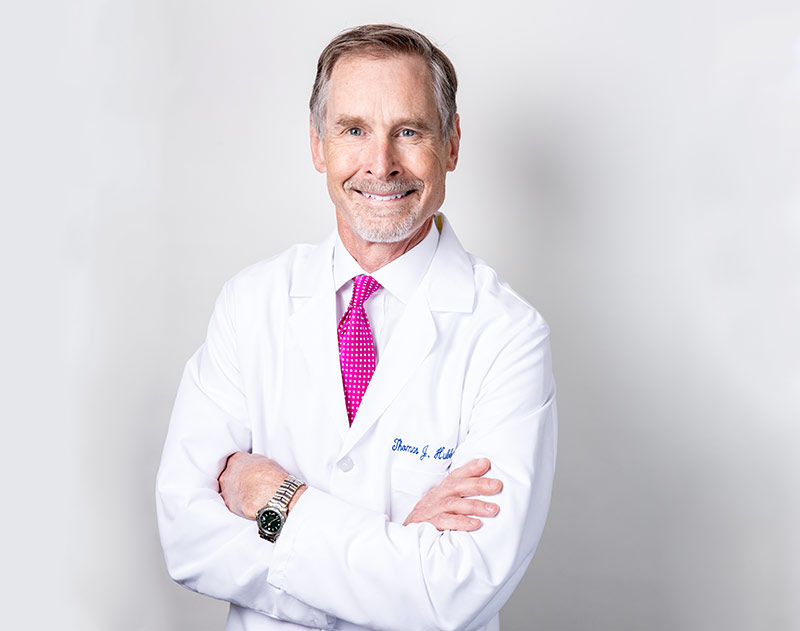 What can I expect During Healing after breast revision surgery?
The recovery time for revision surgery is similar to other breast procedures. The patient can expect to return to work in 5-7 days and resume exercise in 3 weeks.
Am I a Candidate for a complete makeover?
Breast lift is commonly included in revision surgery. Breast lift and breast reduction techniques improve shape and size. This may be done with or without breast implants or breast implant revision surgery. Some women choose to have breast revision surgery with body contouring such as liposuction or abdominoplasty.