What Makes a Breast Augmentation with Lift Controversial?
What is breast augmentation with a lift and why do women seek this procedure?
This is a surgery that includes a breast implant for both volume and fullness above and a breast lift at the same time to improve shape. This combination is very popular among women who have sag due to age, childbirth or weight loss.
Why would this be considered controversial among surgeons?
Mainly because the majority of plastic surgeons cannot agree on how to achieve the best result in the safest way possible. Some are performing the two procedures in separate surgeries, exposing the patient to more cost and inconvenience. Others are still using an outdated skin tightening technique which provides a less effective lift or a newer type lift which exposes the implant to bacteria from the breast.
Why is this a problem?
Once the breast implants are exposed to bacteria, there is a higher risk of chronic inflammation, capsule contracture, or hardening of the breast.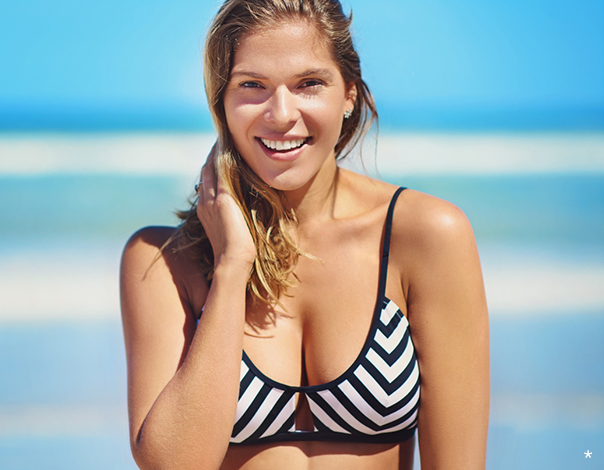 How does Dr. Hubbard help his patients get the best result possible?
Ten years ago he developed his own technique called the TIIM technique (tension management implant isolation mastopexy). Although, maybe it is not fair to call it "his own" since most of the components of the surgery were from ideas of world-renowned surgeons, brought together, each complementing the other, like a symphony. This technique clearly protects implants from bacteria in the breast tissue, enabling safe use of the most effective breast lift.
How can one say this is "proven"?
The ultimate goal in cosmetic breast surgery is patient satisfaction. So convinced of the efficacy of his results, Dr. Hubbard completed two satisfaction surveys of his patients that had the TIIM technique. One survey is The Breast Q Survey, which is the most respected in the medical field, and it is "validated" meaning the questions are not swayed to any answer, but seek objective information. Despite its use worldwide for over ten years, no other surgeon has ever used Breast Q to study the satisfaction of breast augmentation lift results.
Why did Dr. Hubbard do a second survey?
It was important to put his results to the test by going head to head with the outcomes of the only other previous use of the survey specific to breast augmentation with a lift.
Internationally recognized plastic surgeon, Dr. Scott Spear, designed and published a survey specific for breast augmentation with lift patients in 2004. He was truly motivated by the advancement of science and surgery since he was bold enough to ask questions no other breast surgeon has published before or after. These included, "are you happy with the size of your breasts?" "Are you happy with the amount of lift achieved"? "Are you happy with the scars?" "Are you happy with nipple position and areola size?" "Do you feel that you need any revision to your surgery?"
Women making decisions about surgery should have this information! Dr. Hubbard was convinced this survey had to be repeated and it was.
What did the surveys show?
The Breast Q Survey indicated high satisfaction rate. By repeating Dr. Spear's survey, there was the opportunity to compare with his results. Although his surgery was done well, it used techniques from the early 2000's – which unfortunately are still the norm 2 decades later. . Dr. Hubbard's TIIM technique outperformed Dr. Spear's in every aspect of the survey with the most improved measurement in the amount of lift achieved.
Why did Dr. Hubbard's TIIM method perform so well with scar quality?
In developing the surgery, Dr. Hubbard studied the most effective way to improve scar quality: minimizing tension on the closure. He found a number of methods to decrease tension without sacrificing breast lift and actually improved shape, as well. For example, many surgeons use an outdated technique that creates too much tension around the area of the closure. This results in scars with greater width and/or thickness. TIIM partly stands for "tension management." In Dr. Hubbard's series of 105 patients, not a single patient had a thick or wide scar around the areola. Some patients have an inherited tendency for thick scars but this was still not seen around the areola with the TIIM technique.